Paso Robles Wine Event
Get Ready to Rhône!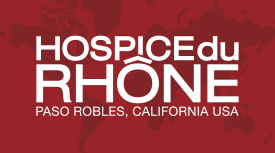 Mark Your Calendar:
Hospice du Rhône Paso Robles Wine Event is April 26 - 28, 2018!
Three days in the late spring have been reserved for an exclusive weekend surrounding all things Rhône. A palate provoking weekend embracing the enchantment, history and tastes of the twenty-two Rhône varieties. Throughout the weekend, tip your glass with international Rhône wine producers, journey through the largest collection of Rhône variety wines on the planet and savor exceptional Rhône cuisine all while taking in the inspiring and spirited Rhône community.
Get Involved
Event Venue
Paso Robles Event Center
2198 Riverside Avenue
Paso Robles, CA 93446 USA
*All event questions should be directed to the Hospice du Rhône staff
*All events are held at this venue unless otherwise noted on event schedule