Blackberry Farm
Hospice du Rhône at Blackberry Farm | November 18 - 21, 2021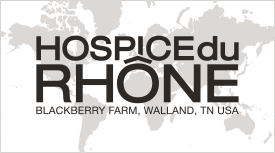 Hospice du Rhône is excited to celebrate the Rhône region and its varieties at our annual Blackberry Farm event. With a generous and inspired selection of wines from winemaker Todd Alexander of Force Majeure, expertly paired with delicious dishes from Chef Kyle Connaughton of Single Thread Farms, this year's event will be full of incredible flavor! We're thrilled to be back at Blackberry for the 11th rendition of this unforgettable event.

Registration for the event may be purchased via Blackberry Farm, and has sold out. If you would like to be placed on the waitlist please contact Blackberry Farm.
Follow this link for a look at past participants in our events at Blackberry Farm.