Blackberry Farm
Hospice du Rhône at Blackberry Farm | May 19 - 22, 2019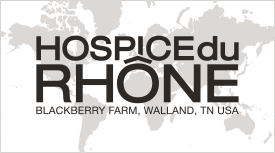 Ten Years! We are beyond thrilled that the 2019 installment of Hospice du Rhône at Blackberry Farm will mark 10 years of an incredible partnership. This lauded Rhône wine tasting nestled in the majestic Smoky Mountains has become a favorite for wine lovers far and wide. Join us for an experience to remember as we celebrate 10 years with Rhône winemaking personalities and chefs from around the world.
2019 Seminar Series at Blackberry Farm
Drum roll, please! Below is a brief list of who will be headlining our 10 years at Blackberry Farm. Full presentation details to be released in the coming months. Though, we thought you would enjoy knowing who is already on deck for the 10 year celebration of Hospice du Rhônes at Blackberry Farm.
Wine Presenter: Alvaro Palacios, Priorat, Spain
Wine Presenter: Jim Binns, Andremily Winery, Ventura, CA
Cuisine: Michael Anthony of Gramercy Tavern, New York City
Don't miss this celebration for your chance to taste, learn and connect over some of the finest Rhône wine and cuisine in the world. Registration for the May 19-22, 2019 event is open and may be purchased via the Blackberry Farm website or by calling 800.648.4252.