Blackberry Farm
Hospice du Rhône at Blackberry Farm | May 19 - 22, 2019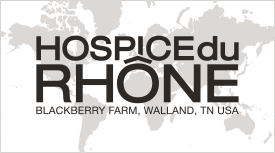 Now in its 10th year, this event will mark a very special celebration of the Rhône region, winemakers and wines. This lauded event at Blackberry Farm, nestled in the majestic Great Smoky Mountains of Tennessee, features a selection of international guests at the foremost wine and food destination in the United States.
Join us for wine tastings, curated wine and food pairings by guest winemakers, outstanding cusine by Blackberry Farm and guest Chef Michael Anthony, along with unparalleled hospitality!
2019 Hospice du Rhône at Blackberry Farm in Walland, Tennessee
Wine Presenter: Alvaro Palacios, Priorat, Spain
Wine Presenter: Isabel Ferrando, Domaine St. Préfert, France
Wine Presenter: Jim Binns, Andremily Winery, Ventura, CA
Cuisine: Michael Anthony of Gramercy Tavern, New York, NY
Musical Performance: Holly Williams
Registration for the event may be purchased via Blackberry Farm.
Follow this link for a look at past participants in our events at Blackberry Farm.