Rhône Valley
Hospice du Rhône at the Découvertes en Vallée du Rhône
: an event created for the global wine industry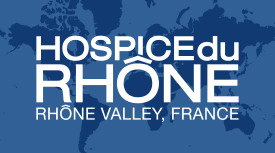 Exciting times here at Hospice du Rhône! After many years of being guests at the Rhône Valley Wines wine trade event, Découvertes en Vallée du Rhône, we were invited to present two, yes two, Master Classes on California Rhône wines alongside wines from the Rhône Valley in the Spring of 2017. This was quite an honor as this premier trade only event is created to showcase wines only from the Rhône Valley. To be asked to highlight California Rhône variety wines at this Rhône Valley event was unprecedented. We are beyond honored to be the first to represent wines outside of the Rhône Valley at this famed event! Details for wine trade for the 2019 edition are yet to be announced. Keep watching Rhône Valley Wines event website for all the details on how to register.
In 2017, to showcase both France and the United States, each Master Class highlighted wines from both California and the Rhône Valley. For our California representation winemaker Bill Easton of Terre Rouge Wines led the master class attendees through a California Rhône journey of Grenache and Syrah. Below is the list of the wines that were shared at the Grenache and Syrah Master Class the 2017 Découvertes en Vallée du Rhône.
Master Class: Grenache | April 11, 2017
California Wines
Beckmen Vineyards
Halter Ranch Vineyard
McPrice Myers
Skylark
Terre Rouge
the girl & the fig
Rhône Valley Wines
Chêne Bleu
Domaine des Bosquets
Domaine de Mourchon
Domaine Vintur
Vincent Baumet
Online Master Class Details
Master Class: Syrah | April 13, 2017
California Wines
Austin Hope Wines
Donelan Family Wines
Jaffurs Wine Cellars
Jeff Cohn Cellars
Miner Family Wines
Terre Rouge
Rhône Valley Wines
Cave Yves Cuilleron
Domaine du Tunnel
Domaine François Villard
Famille Pierre Gaillard
Stéphane Montez du Monteillet
Online Master Class Details
The Découvertes en Vallée du Rhône is presented by Rhône Valley Wines. This event is reserved for members of the trade, who gather from throughout the world in the Rhône Valley. An exceptional event, allowing attendees to not only taste the wines from the Rhône Valley but to meet the makers behind the wines. To learn more about the Découvertes en Vallée du Rhône, visit their website.