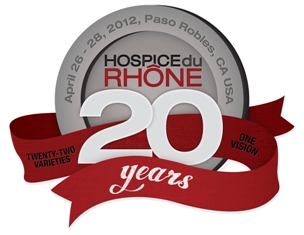 MEDIA CONTACT:
Faith Wells
805.784.9543
faith@hospicedurhone.org
FOR IMMEDIATE RELEASE
November 29, 2011
World's Largest Gathering of Rhône Variety Wines to Celebrate 20 Years in 2012
Hospice du Rhône Announces the 2012 Schedule, Seminar Series and New Events
San Luis Obispo, Calif. USA—Twenty Years! Yes, it is true, Hospice du Rhône, the world's largest (and most spirited) gathering of Rhône variety wines is celebrating 20 years April 26-28, 2012 in the acclaimed Central Coast wine region of Paso Robles, California USA.
Through the years, Hospice du Rhône has hosted diverse Rhône personalities from the world over, tasted attendees on wines found only at the event and have been a platform for experiences that shall always be remembered. This mission will ring loud at the 20th celebration as the organization will bring together the new and old of the inspiring and spirited Rhône community.
"This year, the event will draw on many aspects that have been cultivated over the past 20 years along with incorporating new features for this celebration," notes Vicki Carroll, director of Hospice du Rhône. "The milestone year has us reflecting, looking forward and ecstatic to once again bring together a community of wine lovers who are eager to share and engage."
The 20th year will open on Thursday, April 26, 2012 with an exciting, rare and limited opportunity to taste through multiple vintages of Châteauneuf du Pape wines dating as far back as the 1950s. Conversations with Châteauneuf du Pape will be led by author Harry Karis, vigneron Philippe Cambie and Sommelier Kelly McAuliffe. Following the seminar, a dinner prepared to perfection and paired with sought after wines from the historic Châteauneuf du Pape region will take place at Bistro Laurent in downtown Paso Robles. Tickets for this new event are limited and are currently for sale on the Hospice du Rhône website, www.hospicedurhone.org.
Reflecting upon the past 20 years, it is only fitting that the 2012 Seminar Series highlight Rhône producers who have taken the stage before. Guests will delve into this milestone year with seminar presenters from Australia, France, Spain and Washington State. Taking the trek to the 20th celebration will be Chester Osborn of d'Arenberg, South Australia, Christophe Baron of Cayuse from Walla Walla, Washington, François Villard, Yves Cuilleron and Pierre Gaillard of Les Vins de Vienne of Chavanay, France along with four Rhône producers from Spain who are represented in the United States by European Cellars | Eric Solomon Selections. The Seminar Series features two seminars on both Friday, April 27 and Saturday, April 28, 2012. Full seminar descriptions are noted on the organization's website, www.hospicedurhone.org.
The 20th year will introduce the new Friday BIG Rhône Rendezvous where over 100 producers from near and far will share their Rhône wines from large-format bottles. To complement this BIG evening of BIG bottles highly-acclaimed chefs hailing from the esteemed Blackberry Farm in Walland, Tennessee will serve up a taste of the South in a BIG way. This will be the only event throughout the weekend that the "Number 1 Resort in the Continental U.S. and Canada" as voted by Travel + Leisure for their 2011 World's Best Awards, will showcase their culinary talents.
The Rhône quest continues at the Saturday Grand Tasting with over 130 winemakers pouring tastes from around the globe. It has been said that to duplicate this tasting, one would need a passport, many weeks off work and thousands of airline miles to taste the variety of wines showcased at the Grand Tasting. While strolling the Tasting Pavilion guests will savor bites from artisan food purveyors who will be stationed throughout the hall. The 2012 featured chefs will take to the Demonstration Kitchen to share kitchen tips and tricks.
This 20th reunion will call on the organizations culinary comrades to make a return visit to the stove to create delectable dishes for each of the meals. Guests will delight in cuisine from the girl & the fig of Sonoma, California at the Rosé Lunch, the Far Western Tavern of Guadalupe, California for the Saturday Lunch and Live Auction, The Neon Carrot of San Luis Obispo, California at the Saturday Farewell BBQ, and Blackberry Farm of Walland, Tennessee at the BIG Rhône Rendezvous.
Attendees should gear up for a weekend of Serious Fun billowing with Rhône wines, Rhône zealots and Rhône producers from throughout the world. Passes are currently on sale for the 20th celebration of Hospice du Rhône taking place April 26 – 28, 2012 at the Paso Robles Event Center in Paso Robles, California. Event passes begin at $100. To purchase passes and to learn more about the 20th celebration, visit www.hospicedurhone.org.
###
2012 Hospice du Rhône Seminar Series
Seminar One: Why Spain (Continues) to ROCK! – European Cellars | Eric Solomon Selections
Seminar Two: The Return of the Bionic Frog – Christophe Baron of Cayuse, Walla Walla Washington
Seminar Three: A Collective Quest – François Villard, Yves Cuilleron and Pierre Gaillard of Les Vins de Vienne of Chavanay, France
Seminar Four: Research, Revelations and the Art of Being Different – Chester Osborn, d'Arenberg, South Australia
Full seminar descriptions can be found on the organization's website, www.hospicedurhone.org.
Get Social with Hospice du Rhône
Facebook.com/HospiceduRhoneIntl
Twitter.com/HospiceduRhone
Official Event Hashtag: #HdR2012
Google +
Download iRhône from iTunes
About Hospice du Rhône
Hospice du Rhône® (HdR) will celebrate 20 years of all things Rhone, April 26 – 28, 2012 in Paso Robles, California. Noted as the World's largest International celebration of Rhône variety wines, Hospice du Rhône serves as an International Vintners Association providing promotional and educational opportunities through an annual event. Proceeds from the annual event are used to carry out programs that benefit Rhône producers worldwide. Operating as a non-profit business league, Hospice du Rhône strives to improve the business conditions of grape growers and wine producers of Rhône variety wines and grapes throughout the world. Hospice du Rhône is not affiliated with any other charitable organization. Non-profit 501 (c) (6) Business League
About iRhône - The Third Edition will launch in the Spring of 2012
iRhône, the first wine event/organization application for all iDevices launched in April 2010! With over 1,000 Rhône wines and over 140 international Rhône producers and importers, application holders will never be at a loss for Rhône wine information when at the annual event or at home.
Editor's Note—for additional information, photos or logo please contact Faith Wells at faith@hospicedurhone.org or 805.784.9543.
« Back to Press Index